General Information, FAQ and a little history...links to wiring diagrams at the bottom of the page
British Gauge, British Made....we are proud of what we do and want to put our name to it...

Since we started this little project back in 2012 a lot has changed, we were told by many that the classic market would never accept digital/electronic gauges, but we felt sure that classic and custom restorers, builders and riders who still wanted and needed to ride their bikes or drive their projects would welcome the accuracy and reliability these new instruments would offer. Five years later and we are more confident than ever that the market wants the convenience of modern gauges but appreciates the care taken to design and build to the same exacting aesthetic standards as the original instruments of the 40's - 70's. The famous brands of old may have died but their legacy lives on in British-Gauge, British Made instruments.

Puca started this adventure with the help of the very knowledgeable instrument restorers based in the UK and abroad, we wanted to get the face and case design as accurate as possible to the originals. We are now widening the range under the banner of British-Gauge largely because neither Puca nor our business associates "owns" the Smiths brand. The former manufacturer of the most famous of the dead brands, Smiths Industries (SI), are engaged in lofty ambitions...literally..researching space exploration, nano and aero technologies..they have moved onto bigger and better things and have chosen to ignore and decline to protect their old clock-maker's name or its industrial past....so the market is a branding free-for-all.
We want to put some clear water between us and the various far east imports and EU classic "styled" versions using dead brand logos and underline that the instruments we make here at Puca HQ are as close to the originals as we can get, using compatible cases, bezels and ancillary parts interchangeable with the mechanical originals. If it is a British Gauge, British Made instrument it will fit the original Jaeger, AT or Smiths brackets as specified....you can rely on it. What's more, if you need a specific branded face to complete a restoration project we can also help with that.
....if the gauge is UK made and branded Smiths are they all the same?
Unfortunately not, we are sorry for the confusion but as far as we know our chronometric type gauges and Vincent fitment 5in are the only ones that are actually replicas of the original Smiths instruments. We only use replica cases, bezels and parts and the instruments we sell will fit an original chronometric bracket perfectly. Customers are urge to check that the "Smiths" branded chronometric they are being offered is not just a "chrono-styled" version that won't fit their mounting brackets
....if I buy a Smiths motorcycle gauge somewhere else can I get help from Puca?
We will always try to help and steer you guys right, advice is no problem, but if you encounter a technical fault with your gauge and its not from us, then you will have to return it to the vendor that supplied it.
....Our family of gauges under the British-Gauge banner, Digital-MA, A.T., Airspeed, and Smiths
digital speedometer and tachometer tech help, for Smiths, Digital MA, British Gauge instruments
The classic/heritage gauges we supply have been designed to work with both negative and positive earth, 12v systems unless otherwise stated.

The digital tacho is either wired into the switched side of the ignition coil circuit or may be driven by a dedicated ECU signal if one is available and has programmable options from single to six cylinders.

The digital tacho may also be driven by a suitably placed HT signal amplifier.

Our digital speedo operates using a signal from either a dedicated ecu output (modern bikes) or from a sensor such as a "hall-effect" sensor hidden inside a dummy cable (to maintain the profile and look of your classic bike) or a moving magnet type (reed switch) similar to that used on a bicycle computer.
See the accessories page for details on senders for your bike.

The speedo has a dedicated power circuit to supply a 5v power feed to the sender but can also be used in conjunction with 12v hall-effect senders or reed switches.

The Digital MA and Smiths range of motorcycle digital speedos have a very handy "Drive to set" function that makes the unit extremely easy to set up, simply putting the speedo into "DTS" mode and riding the bike over a measured mile or kilometer, will enable the unit to calibrate itself and record and display speed and distance correctly. (go to DTS page)
The units will work on positive, as well as negative earth systems.
If you have any concerns about the compatibility of Smiths instruments with your positive earth system, please contact us with a description of your bike, ignition system and type of coil
...will they work on my bike?
The units will work on any machine with a 12v supply and a conventional ignition coil for the tacho pick-up. The wiring of the tachometers is also compatible with dedicated ECU rpm signals.
It is also possible to use a HT signal amplifier to drive the tacho for ignition systems with "exciter" type coils or magneto driven igntion systems, the tacho units will still require a 12v supply.
The use of good quality suppressed spark plug caps is important to ensure a reliable signal for the digital tacho. If in doubt, please contact us for specific advice on your charging system and model
....will they fit on my bike
The ranges we offer which are branded "Smiths" will fit the original corresponding brackets for that instrument type, ie. a chronometric gauge will fit a chronometric bracket, likewise a shallow-magnet type instrument will fit the later mounting brackets from the 60's onwards. Our digital motorcycle instruments are made to the same dimensions as the original Smiths mechanical units unless stated otherwise. All our fittings are metric, M5 for the classic range and M6 for the chronometric units and fit all original brackets made for smiths instruments.
Press on the label-tag below for dimensions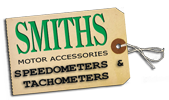 click on label to view instrument dimensions
....how do I set the units for rpm?
The tacho comes pre-set for twin cylinder engines but with simple setup procedure to enable the unit to also be set for singles, triples, fours, five and six cylinder machines, follow the instructions to obtain the correct read out for your bike.
....what is a hall-effect sensor?
A simple electronic sensor that generates a pulse so the receiving unit can interpret the revolutions of the wheel or drive unit, just like on a bicycle speedo/computer. We have a wide range available styled to look like the original speedo cable that fit directly into a wheel-hub mounted speedo drive or gearbox mounted output. We only supply the "classic-sender" with speedometers purchased from Puca (British Gauge)as we cannot verify the compatibiity with other classic styled or "Smiths" branded instruments.
Press on the label-tag below for a typical hall-effect setup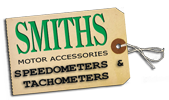 click on label to view classic sender set-up
....do I need a sensor for my Smiths speedo?
Yes, if you not have a dedicated ECU output signal (modern machines) then you will need one of the hall-effect or reed switch senders available on the accessories page
....how long are the looms on the speedo, tacho and sender units?
The Smiths digital range of speedos and tachos come with approx .5m of loom, the senders and sensors have approx 1m of cable/loom. Most motorcycles use a front wheel or gearbox output for speedometer activation, the senders/sensors are designed accordingly.
As the sender/sensor is not a "drive cable" it does not need to follow the original route of the speedo cable, this provides owners with the widest choice of installation locations.
Our test bikes, along with many owners preference use a junction box under the riders seat allowing for easy access and weather proofing, there is no requirement to wire to the headlamp case.
Each installation is different and most will need only slight extentions to the supplied loom Any extensions to the loom either for the sender or the Smiths digital speedos or tachos should use good quality automotive type cable size .5mm² or (better) multi-core or trailer cable is ideal for neatness. Colour coded extentions will be available soon on the accessories page
....my bike is a custom, I don't have a speedo drive or ecu signal?
We would advise you use a reed switch sender as available on the accessories page These senders can be configured almost anywhere on the bike (or project) close to a revolving wheel component or final drive sprocket. This type of sender uses a revolving magnet to trigger and careful siting of the sender unit and revolving trigger magnet is essential for reliable performance. Our senders are supplied with one trigger magnet which will be fine for wheels up to 19in (48cm) rim size, more magnets may be used to give a smoother speedo reading at speeds below 15mph (25kmh).
Wheel sizes over 19in (48cm) should use a minimum of two trigger magnets to ensure smooth speedo performance at low speeds.
We always recommend fitting to the rear wheel/swing arm for reliabilty and stability of signal
press on the label tags below for wiring diagrams and instructions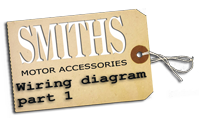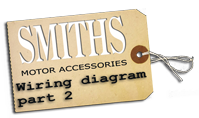 See a brief pictorial guide to testing setup before an instrument is fitted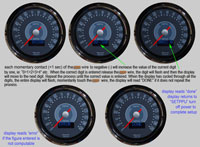 *Please

contact

us with details of your project*
For our contact information
see the contact page for a full explanation of our terms and conditions
click on the image to find us on facebook